The Tuttle-Click Story begins in 1923 when 
Holmes P. Tuttle
 started an adventurous journey from Oklahoma to California.  After hitchhiking and jumping on trains, he made it to California and  began working in the Parts Department of a Ford Dealership in Los Angeles.  Twenty-three years later, he opened his first dealership.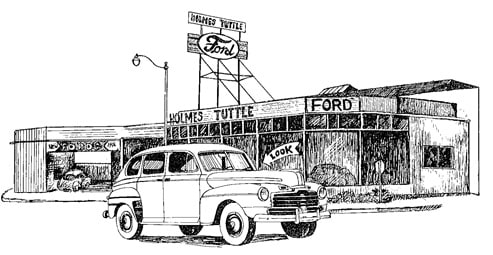 By the mid-1960s, he owned multiple dealerships and both his son, 
Robert  Tuttle
, and grand-nephew, 
James Click, Jr.
, were members of his Sales Team.  The two competed fiercely, propelling both of them to success. In 1977, Bob and Jim decided to harness their competitive natures and complementary personalities to create Tuttle-Click Automotive Group.  
  
Robert H. Tuttle

 
Jim Click, Jr.

Today, Tuttle-Click Automotive Group has 15 dealerships representing nine manufacturers and 13 makes in California and Arizona.  Although Tuttle-Click Automotive Group has grown significantly over the years, we are proud to have maintained our privately-owned family business status. 
We attribute the success of our organization to the experience and integrity of our dedicated Team Members, from lot attendants to owners, as well as to the loyalty of our valued customers.